Welcome to the Sust'āinable Molokai Mobile Market!
We support Molokai growers and producers by bringing their fresh, locally-grown and produced food to you via our weekly online market and order pickup.
Visit our Product List!
NEW PRODUCERS: We would love to grow with you! Email ipo@sustainablemolokai.org for information about becoming a mobile market producer or grower. (Please note we are not currently taking any new edible/medicinal plant producers.)
NEW CUSTOMERS: Click here to create your Sustainable Molokai Mobile Market customer profile. Please be sure to check "Send me market updates by email" so that we can communicate with you and send you email notifications when the market ordering period opens each week.
1. Order online between 3 pm on Sunday and 12 pm on Tuesday.
To confirm and place an order, please enter a credit card into your customer profile. We will charge your order to the card on file after you pick up your order, including a $1 fee per order for new grocery and produce bags. Once you have confirmed your order, it cannot be altered or canceled after 12 pm Tuesday when the ordering window closes. For information about our Double Bucks program and to use EBT to pay for your order, please call the Mobile Market's Mobile Office at 808-658-5234. (Also see below for more information!)
2. Pick up your order Thursday in either Kaunakakai or Maunaloa.
We ask that you come during the specific time window based on the first letter of the last name as entered in your Customer Profile.
KAUNAKAKAI
DRIVE-THROUGH PICK-UP FROM 1:00 to 2:30 pm
at Molokai Canoe Club (Please note new pickup location as of Oct. 14th!)
A-J 1:00 -1:30 pm
K-R 1:30 - 2:00 pm
S-Z 2:00 - 2:30 pm
MAUNALOA
WALK-UP PICK-UP FROM 12:30 to 1:30 pm
behind the old Maunaloa General Store
A-J 12:30 pm-1:00pm
K-Z 1:00 pm-1:30pm
Please park behind the store and walk up to the back door.
We ask that you mask and observe social distancing.

WE ACCEPT EBT AND OFFER DOUBLE BUCKS SAVINGS!
When you pay with EBT, you get 50% off all Hawaii-grown local produce,
poi, steamed kalo, frozen ulu, and plants — with no limit!!

There is no cap on savings!
You can buy as much produce as you need to feed your ʻohana
and receive 50% off your entire produce total.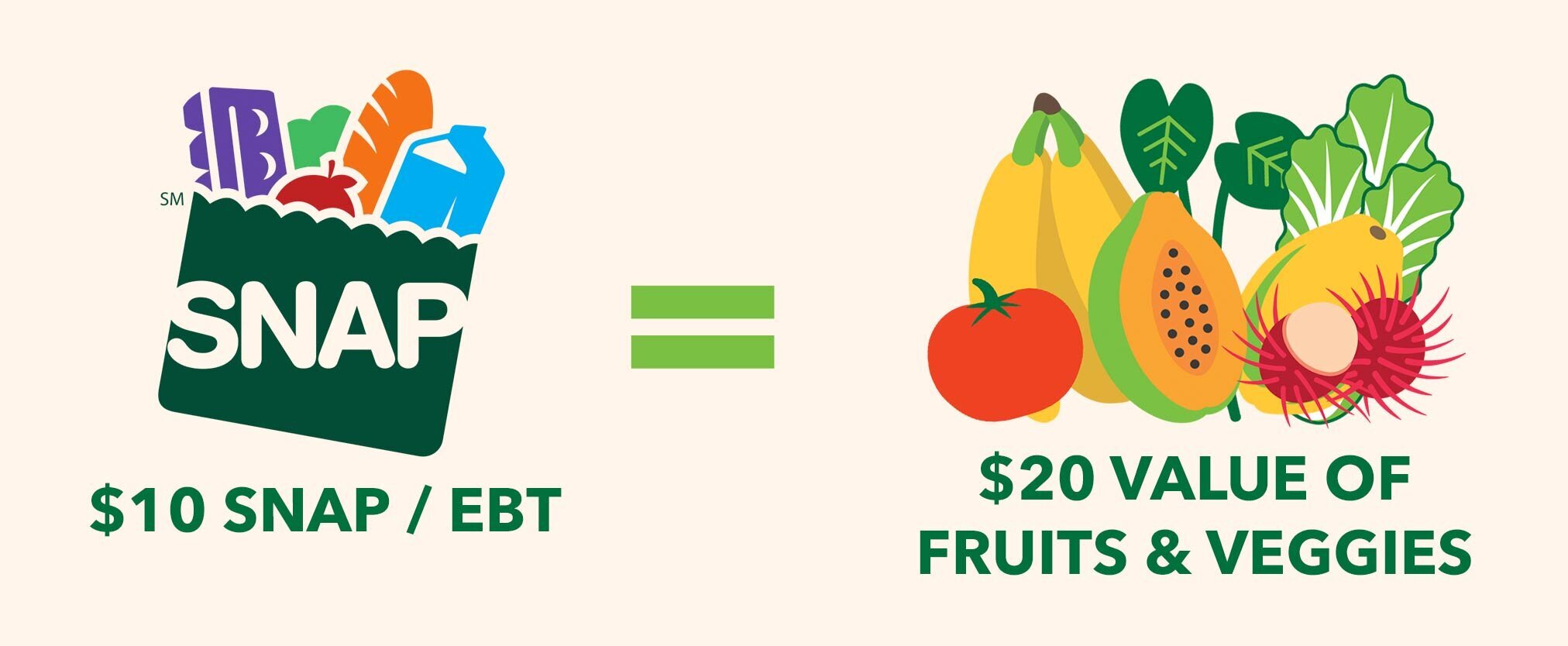 To use EBT or P-EBT as your payment method, please contact Dayanti at (808) 658-5234 after you create your customer account and enter your credit card information. You will still need to confirm your order online via credit card and we will charge your credit card on file $1 per order for new grocery and produce bags.
____________________________________________________________________

YOU CAN APPLY FOR SNAP AND/OR FINANCIAL BENEFITS ONLINE - CLICK HERE
You must be a resident of the State of Hawai'i to be eligible for money and/or SNAP benefits